The coastal area of Balochistan is famous for such volcanoes. The tectonic plate underlying the Arabian Sea is diving beneath the Eurasian continent. This process—subduction—typically creates volcanoes, but the volcanoes that rise from this arid landscape are not the typical kind. Instead of lava, ash, and sulfur dioxide, these volcanoes spew mud and methane. On rare occasions, the gas plumes spontaneously ignite, shooting flames high into the sky
Instead of lava, ash, and sulfur dioxide, these volcanoes spew mud and methane

These volcanoes are located in clusters spread over almost ten locations, mostly between the Gwader Port and Delta of Hingol River. Near Gwader, these mud volcanoes are very small and mostly sit in the south of Jabal-e-Mehdi toward Sur Bandar. Many more exist in the north-east of Ormara.

The major complex of volcanoes located in Lasbela District scattered north of Miani Hor in the Hingol Valley and almost north of the Agor beach.
Weather of Lasbela
LASBELA WEATHER
In this region, the heights of mud volcanoes range between 243.8 to 472.4 m.
The opening of the Makran Coastal Highway has brought people close to these volcanoes, and now only northward journey from the highways is to be undertaken either by automobiles or on foot
Along the coast of Pakistan, the tectonic plate underlying the Arabian Sea is diving beneath the Eurasian continent. This process—subduction—typically creates volcanoes, but the volcanoes that rise from this arid landscape are not the typical kind. Instead of lava, ash, and sulfur dioxide, these volcanoes spew mud and methane. On rare occasions, the gas plumes spontaneously ignite, shooting flames high into the sky.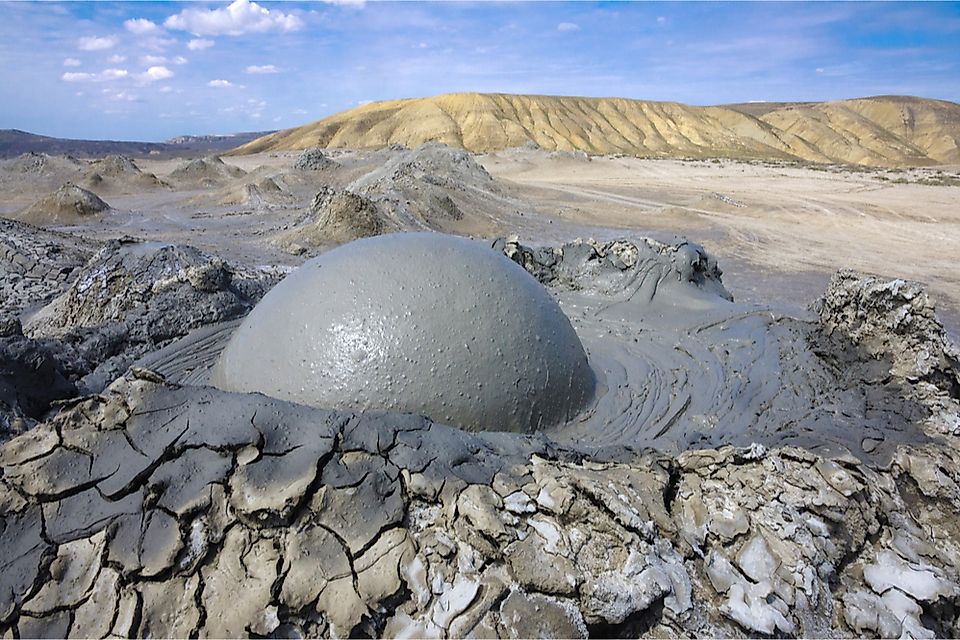 This natural-color image shows the most dramatic group of mud volcanoes in the area, known as the Chandragup Complex.
Chandragup I
The tallest volcano, Chandragup I, is about 100 meters (330 feet) high, and it has a 15-meter- (49-foot-) diameter mud lake in its crater that periodically overflows. Some of these overflows have darkened the northwestern flanks. A second crater emerges from the southern flanks of Chandragup, but it is not currently active.
Chandragup II
The 45-meter (150-foot) Chandragup II lies northeast of the taller cone, and its crater is filled by a mud lake with a figure-8 shape, probably the result of twin volcanoes whose craters collapsed into each other over time.
To the northwest of Chandragup I, the eroded rim of an extinct mud volcano is visible; its eastern rim is more noticeable than its western rim.
Hingol Mud Volcano
Tang Mud Volcano
We are sorry that this post was not useful for you!
Let us improve this post!
Tell us how we can improve this post?
Post Disclaimer & Copyrights
The information contained in this post is for general information purposes only. The information is provided by author of Mud Volcanoes of Balochistan and while Travel Guide Pakistan endeavor to keep the information up to date and correct, we make no representations or warranties of any kind, express or implied, about the completeness, accuracy, reliability, suitability or availability with respect to the information or related graphics contained on the post for any purpose.
For any copyright claim violated by blogger contact travel guide Pakistan through contact tab